紗綾
SA-YA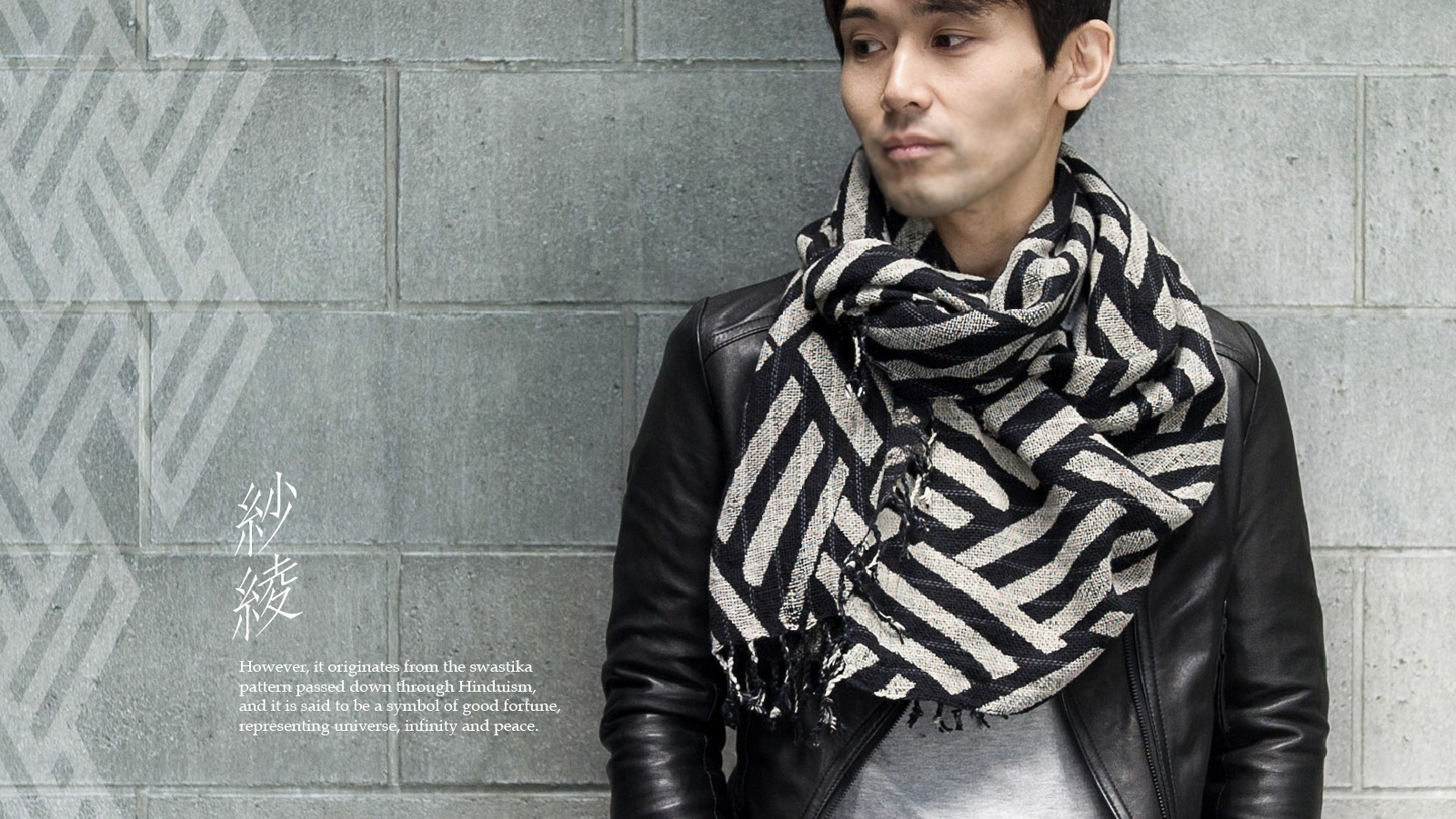 江戸では紗綾、京都では綸子(りんず)と呼ばれている。京都からたちまち全国に広まり、女性の礼服の柄として親しまれた。中国からの絹織物に多くみられた柄だが、元はヒンドゥ教より伝わる卍型で宇宙や無限・円満を意味する幸運のシンボルとされている。
Called as Saya in Edo (the old name for Tokyo) and as Rinzu in Kyoto, it suddenly spread from Kyoto around the country, and became familiar as a pattern for women's ceremonial dress. It is the pattern much found in the silk textiles imported from China. However, it originates from the swastika pattern passed down through Hinduism, and it is said to be a symbol of good fortune, representing universe, infinity and peace.
厚手スカーフ / Thicker
¥ 3,850(ex. ¥3,500)
薄手スカーフ / Thinner
¥ 3,850(ex. ¥3,500)
帽子 / Hat
¥ 4,950(ex. ¥4,500)
入荷未定
トート / Bag
¥ 4,950(ex. ¥4,500)
入荷未定
マスク / mask
¥ 2,200(ex. ¥2,000)
入荷未定
※手織り手染めの商品となりますので、制作時期によって長さ最大±20cm程度、幅±5cm程度の差があります。
※20枚以上を同時にご購入の場合、卸売り価格が適用されます。こちらのページからご連絡ください。
*If you purchase 20 or more at the same time, the wholesale price will be applied. Please contact us from this page.
※特定商取引法はこちら
We are full of gratitude to meet you all !!
We pray that this situation will settle as soon as possible and that God will bless the health of you, your family and your friends. Hope to see you someday on the path of Philosophy of cherry blossoms in full bloom.
OTHERS
店舗情報:
Store Location
TSU.BA.KI Kyoyto JAPAN
〒606-8405 京都市左京区上南田町85-2
85-2 Kamiminamida-cho Sakyo-ku Kyoto 6068405 JAPAN
OPEN only Spring and Autumn at 10:00 - 17:00
Please check Facebook or contact us for store details.

Copyright 2023 TSU・BA・KI Kyoto JAPAN | 特定商取引法 | privacy | terms