いろは
IROHA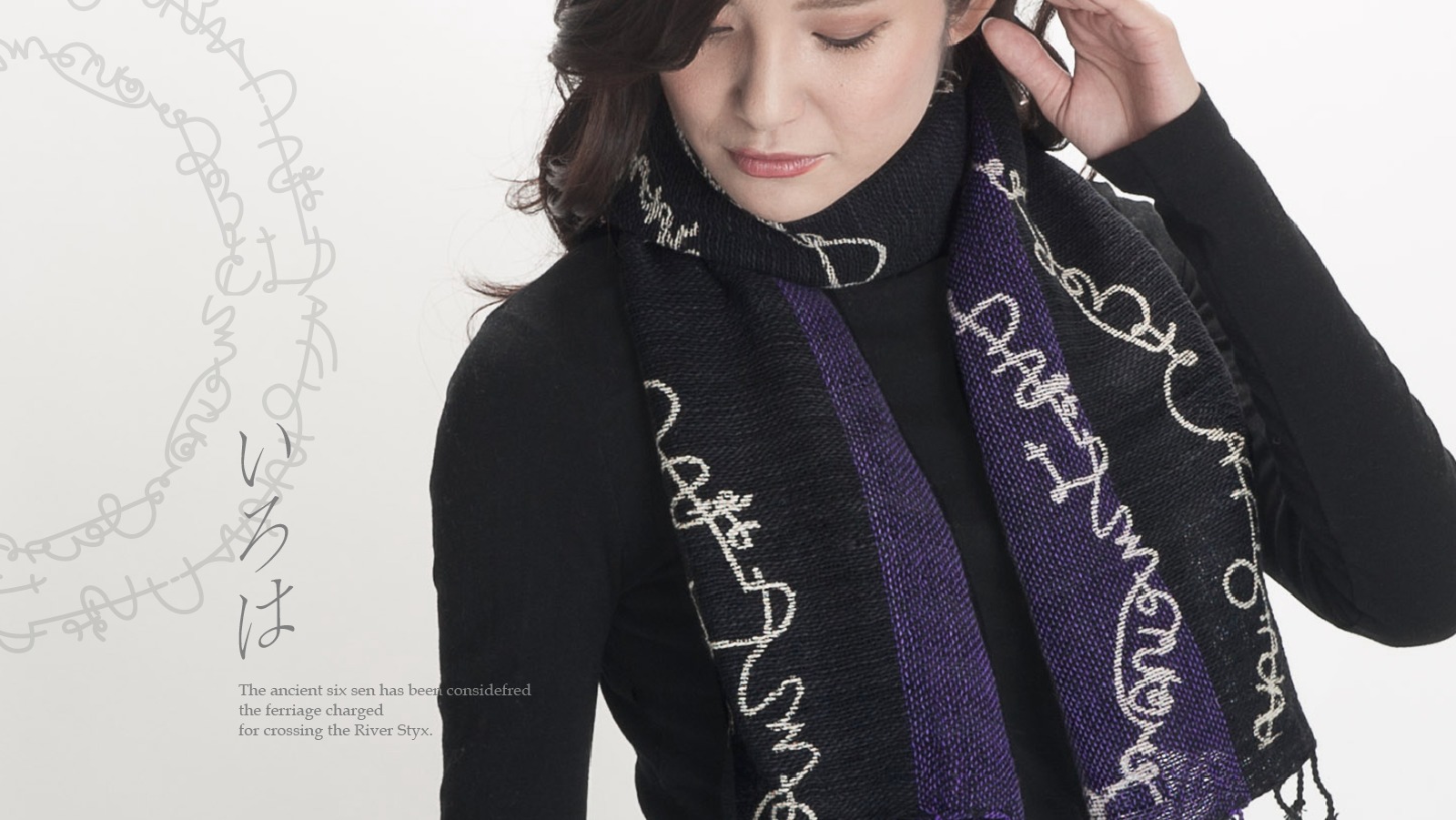 47字全ての仮名を重複させずに作られたいろは歌は、古くから手習いの手本として教育にも用いられる誦文である。「鳥啼歌」「国音の歌」とも言われ、その由来・意味合いには様々な説があるものの、いろは歌は日本人なら誰しも馴染みのある美しい仮名尽しの代名詞とされている。
The Iroha song which uses all the 47 hiragana characters without using any character twice is a recitation which is even used in education from the old as practice for calligraphy. Otherwise known as "the bird singing song" and the "national sounds song" and having various opinions regarding its origin and meaning, the Iroha song is considered a pronoun for beautiful use of the Hiragana familiar to every Japanese.
厚手スカーフ / Thicker
¥ 3,850(ex. ¥3,500)
薄手スカーフ / Thinner
¥ 3,850(ex. ¥3,500)
帽子 / Hat
¥ 4,950(ex. ¥4,500)
入荷未定
トート / Bag
¥ 4,950(ex. ¥4,500)
入荷未定
マスク / mask
¥ 2,200(ex. ¥2,000)
入荷未定
※手織り手染めの商品となりますので、制作時期によって長さ最大±20cm程度、幅±5cm程度の差があります。
※20枚以上を同時にご購入の場合、卸売り価格が適用されます。こちらのページからご連絡ください。
*If you purchase 20 or more at the same time, the wholesale price will be applied. Please contact us from this page.
※特定商取引法はこちら
We are full of gratitude to meet you all !!
We pray that this situation will settle as soon as possible and that God will bless the health of you, your family and your friends. Hope to see you someday on the path of Philosophy of cherry blossoms in full bloom.
OTHERS
店舗情報:
Store Location
TSU.BA.KI Kyoyto JAPAN
〒606-8405 京都市左京区上南田町85-2
85-2 Kamiminamida-cho Sakyo-ku Kyoto 6068405 JAPAN
OPEN only Spring and Autumn at 10:00 - 17:00
Please check Facebook or contact us for store details.

Copyright 2022 TSU・BA・KI Kyoto JAPAN | 特定商取引法 | privacy | terms