水玉
MIZUTAMA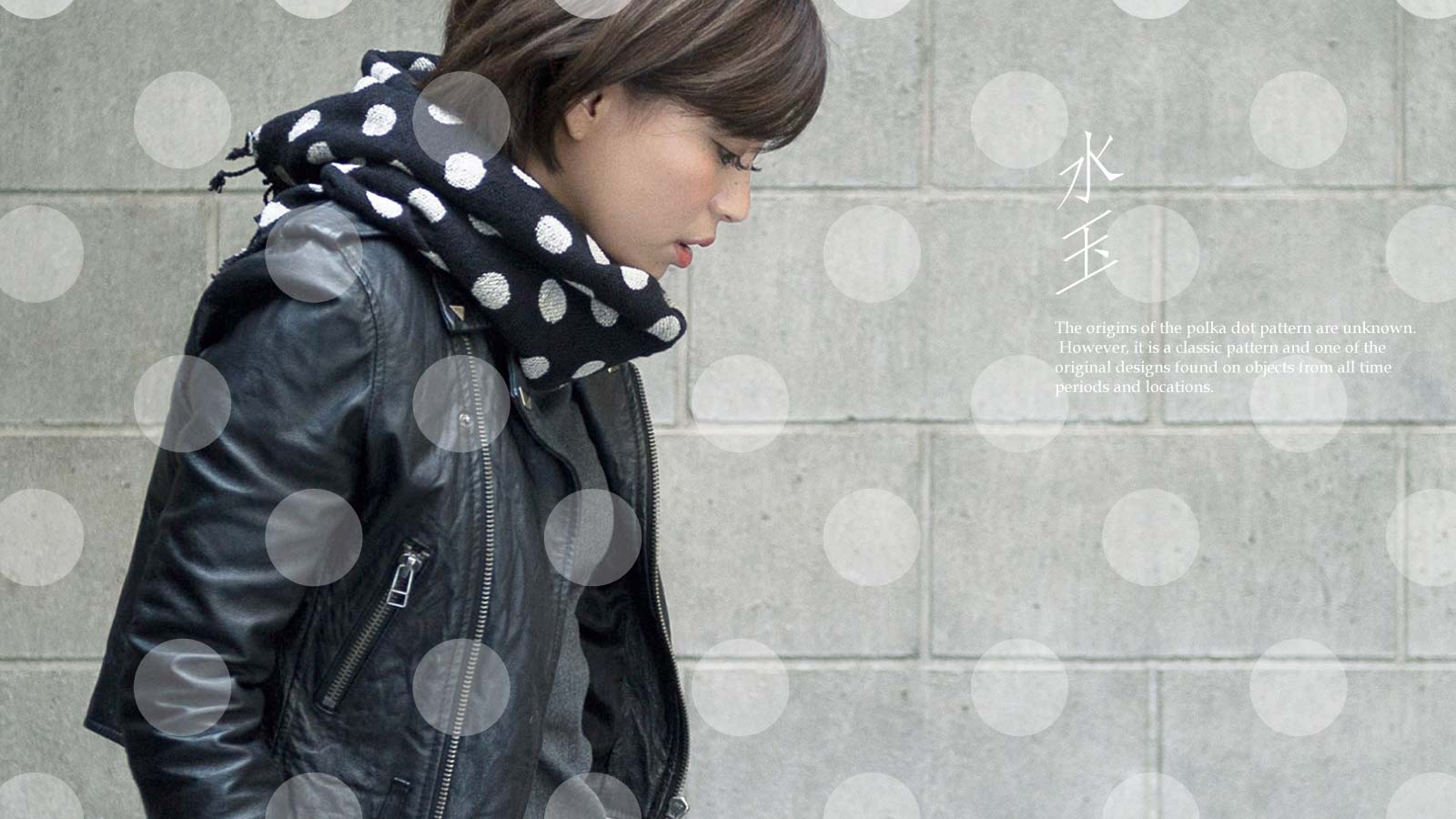 水玉文様の由来は不明。だが古今東西を問わず物の形の原点であり理想形である。水玉の中に神を見る人も居れば無条件に可愛さや美しさを感じる人もいるが、水玉文様に対して人々の想いはほぼ100%好意的なものである。原始的、かつ永久に存在する文様である。
The origins of the polka dot pattern are unknown. However, it is a classic pattern and one of the original designs found on objects from all time periods and locations. There are people who see God in polka dots as well as those who sense a genuine charm and beauty in this design. In any case, people's feelings towards the polka dot pattern are almost 100% positive. I believe it is an ancient pattern that will exist for all eternity.
厚手スカーフ / Thicker
¥ 3,850(ex. ¥3,500)
薄手スカーフ / Thinner
¥ 3,850(ex. ¥3,500)
帽子 / Hat
¥ 4,950(ex. ¥4,500)
入荷未定
トート / Bag
¥ 4,950(ex. ¥4,500)
入荷未定
マスク / mask
¥ 2,200(ex. ¥2,000)
入荷未定
※20枚以上を同時にご購入の場合、卸売り価格が適用されます。こちらのページからご連絡ください。
*If you purchase 20 or more at the same time, the wholesale price will be applied. Please contact us from this page.
※特定商取引法はこちら
We are full of gratitude to meet you all !!
We pray that this situation will settle as soon as possible and that God will bless the health of you, your family and your friends. Hope to see you someday on the path of Philosophy of cherry blossoms in full bloom.
OTHERS
店舗情報:
Store Location
TSU.BA.KI Kyoyto JAPAN
〒606-8405 京都市左京区上南田町85-2
85-2 Kamiminamida-cho Sakyo-ku Kyoto 6068405 JAPAN
OPEN only Spring and Autumn at 10:00 - 17:00
Please check Facebook or contact us for store details.

Copyright 2022 TSU・BA・KI Kyoto JAPAN | 特定商取引法 | privacy | terms