家紋
KAMON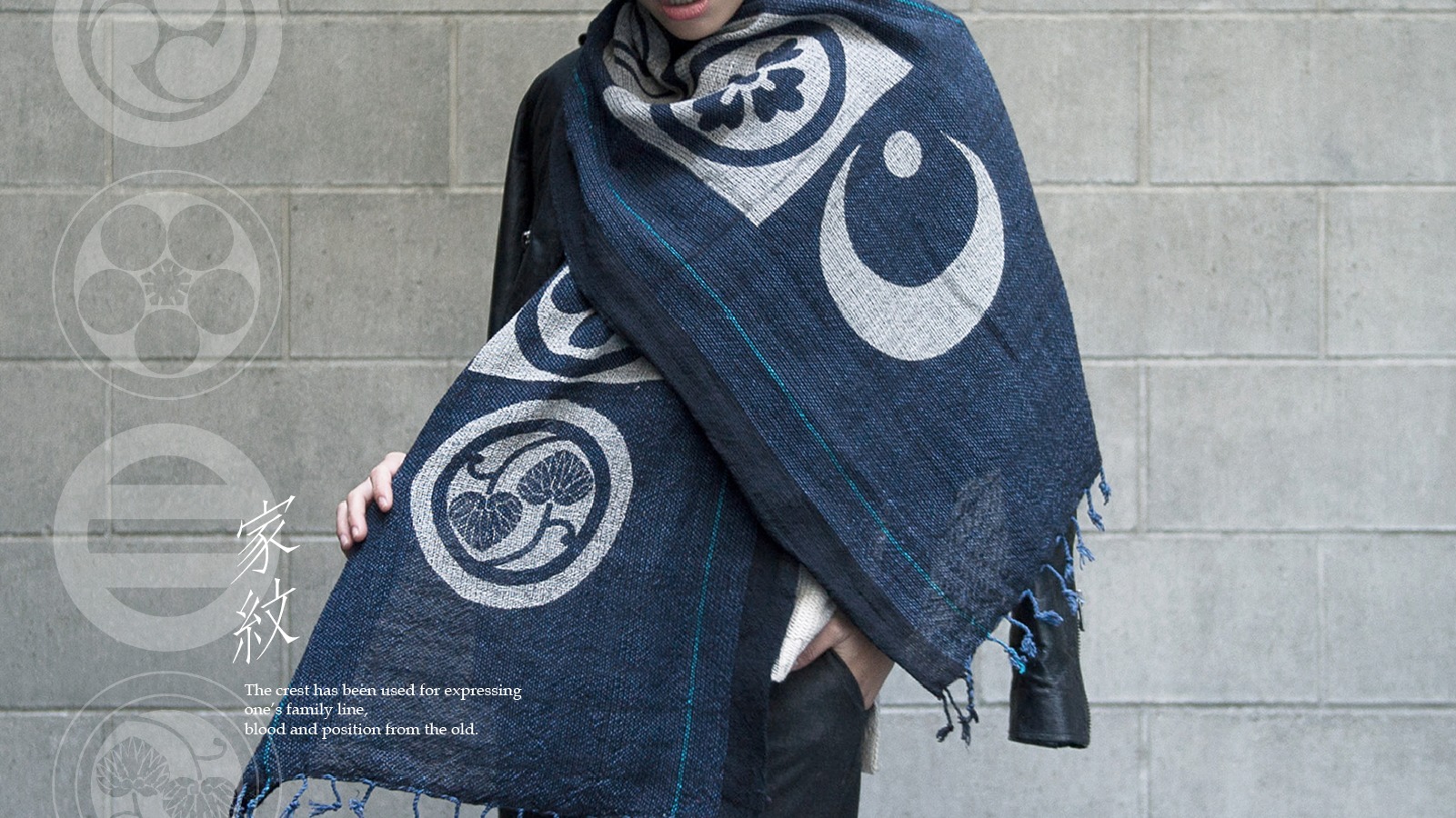 古くより自らの家系、血統、家柄・地位を表すために用いられてきた紋章である。TSU・BA・KIの家紋柄に使われているのは「梅鉢」「三つ巴」「七つ割に二引」「京都頂妙寺」「変わり二つ蔓葵」「中輪に木瓜」 ※並びに意味合いはなく単にデザインのバランスのみを考えて配置しています。
The crest has been used for expressing one's family line, blood and position from the old. Those used for family crest patterns of TSU BA KI are: "Plum blossom", "three comma shapes in a circle", "two horizontal lines inside a circle that each has a width equal to one-seventh the diameter of the circle", "Chomyoji, Kyoto", "variation of double asarum caulescens", "middle wheel and Japanese quince" *there is no meaning in the order of being lined up but we arranged by only considering the balance for the design.
厚手スカーフ / Thicker
¥ 3,850(ex. ¥3,500)
薄手スカーフ / Thinner
¥ 3,850(ex. ¥3,500)
帽子 / Hat
¥ 4,950(ex. ¥4,500)
入荷未定
トート / Bag
¥ 4,950(ex. ¥4,500)
入荷未定
マスク / mask
¥ 2,200(ex. ¥2,000)
入荷未定
※手織り手染めの商品となりますので、制作時期によって長さ最大±20cm程度、幅±5cm程度の差があります。
※20枚以上を同時にご購入の場合、卸売り価格が適用されます。こちらのページからご連絡ください。
*If you purchase 20 or more at the same time, the wholesale price will be applied. Please contact us from this page.
※特定商取引法はこちら
We are full of gratitude to meet you all !!
We pray that this situation will settle as soon as possible and that God will bless the health of you, your family and your friends. Hope to see you someday on the path of Philosophy of cherry blossoms in full bloom.
OTHERS
店舗情報:
Store Location
TSU.BA.KI Kyoyto JAPAN
〒606-8405 京都市左京区上南田町85-2
85-2 Kamiminamida-cho Sakyo-ku Kyoto 6068405 JAPAN
OPEN only Spring and Autumn at 10:00 - 17:00
Please check Facebook or contact us for store details.

Copyright 2023 TSU・BA・KI Kyoto JAPAN | 特定商取引法 | privacy | terms